Concrete Bath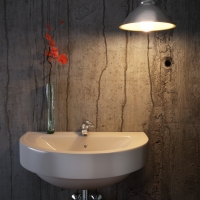 This rendering is a small case study done with Autodesk Maya 2017 and Chaosgroup V-Ray 3.6. Mainly just an academic finger exercise to test some shading and rendering features after a much too long period without 3d project. Here, first of all the final result:
Inspiration
The project started with this wonderful photography of a concrete wall found at textures.com, which seemed to cry out for displacement mapping.  Searching the web for photographs of rooms with concrete walls led to the decision of a sink somewhere in the cellar of a family house. The scene's mood should not be dirty, abandoned or even rotten, even with this rough concrete wall. The sink looks new and clean and a fresh flower is used to show signs of habitation. Here a collage of some images taken from pinterest.com to build a combined mood- and reference board.
---
Making of Holzeisenbahn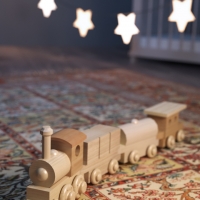 Die Idee für die Szene ist das Rendering einer Spielzeugeisenbahn aus Holz in einem Kinderzimmer. Der Zug steht fahrbereit zum Spielen auf dem Teppich des Zimmers. Die Andeutung einer Lichterkette und eines Babybetts sollen den flüchtigen Eindruck des Kindeszimmers erreichen. Als Titelseite für das das Buch "Rendering in Maya und V-Ray" soll die Szene möglichst viel von den Besonderheiten von Chaos Groups V-Ray enthalten.
Weiterlesen: Making of Holzeisenbahn
---