Lavender House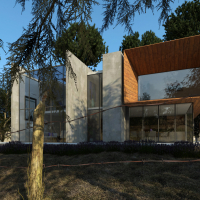 Architectural visualization project done for lectures "Advanced Rendering" (Master Media Informatics) given during summer semester 2019. The project was done with Autodesk Maya and Chaosgroup V-Ray Next with some post production work in Photoshop. Rendering by C. Malerczyk
The idea and inspiration for this project was to create a rendering of a modern residence located somewhere in the Mediterranean area. Even if difficult to see at first, the villa's terrace is surrounded by lavender bushes with their typical scent. The subtle purple of the lavender is repeated inside of the building with some assets of the same color such as cushions, blankets or dishes in the kitchen.
---
Railroad Gate IBL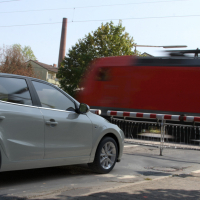 This is a simple rendering of a Hyundai i30 waiting at a closed railraod gate in Frankfurt (near Frankfurt's Klassikstadt). Rendering by C. Malerczyk & H. Arlt
The full spherical HDRI panorama was shot already two years ago during 2018 e.media Summer School. The image is stiched using 8 bracketing series with 7 exposure steps each. Not an easy task shooting a panorama with tripod blocking the car traffic right in front of a railraod gate with a lot of annoyed car drivers not willing to stop 5 meters ealier, even if the gate is closed anyway.
Weiterlesen: Railroad Gate IBL
---
Making of Holzeisenbahn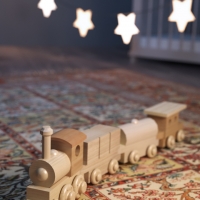 Die Idee für die Szene ist das Rendering einer Spielzeugeisenbahn aus Holz in einem Kinderzimmer. Der Zug steht fahrbereit zum Spielen auf dem Teppich des Zimmers. Die Andeutung einer Lichterkette und eines Babybetts sollen den flüchtigen Eindruck des Kindeszimmers erreichen. Als Titelseite für das das Buch "Rendering in Maya und V-Ray" soll die Szene möglichst viel von den Besonderheiten von Chaos Groups V-Ray enthalten.
Rendering by C. Malerczyk
Weiterlesen: Making of Holzeisenbahn
---
Concrete Bath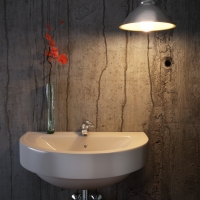 This rendering is a small case study done with Autodesk Maya 2017 and Chaosgroup V-Ray 3.6 (Rendering by C. Malerczyk). Mainly just an academic finger exercise to test some shading and rendering features after a much too long period without 3d project. Here, first of all the final result:
Inspiration
The project started with this wonderful photography of a concrete wall found at textures.com, which seemed to cry out for displacement mapping.  Searching the web for photographs of rooms with concrete walls led to the decision of a sink somewhere in the cellar of a family house. The scene's mood should not be dirty, abandoned or even rotten, even with this rough concrete wall. The sink looks new and clean and a fresh flower is used to show signs of habitation. Here a collage of some images taken from pinterest.com to build a combined mood- and reference board.
---